Campaign 2014
Time for Early Voting in Connecticut: Vote Yes On Question 1
1. Shall the Constitution of the State be amended to remove restrictions concerning absentee ballots and to permit a person to vote without appearing at a polling place on the day of an election?
Connecticut — the Constitution State — rarely amends its historic governing document. But Question 1 on November 4th ballots would create much greater opportunities for residents to vote amid steady declines in participation, particularly in off-presidential years and local elections.
And a yes vote is an  opportunity to send a message to  elements of the Republican party and right-wing extremists that their discriminatory efforts to adopt voter ID laws and reduce early voting options are undemocratic.  It's more than appropriate that this referendum is on the ballot on the 50th anniversary of the Voting Rights Act.
"The state Constitution, like the federal, should not be amended willy-nilly," editorialized The Hartford Courant on August 22nd. "Ours has been amended by voters when it made sense.. This revision makes sense. The possible changes in voting rules that would come if the amendment is approved would help commuters, busy parents, the elderly and students fine more time to vote."
Getting Out The Vote: One Month To Go and Six Ways To Help
In New Britain, there are six ways to join the Democratic Town Committee, volunteer and  promote turnout for the November election:
Send post cards to your family, friends and neighbors
Distribute literature/phone bank voters
Register unregistered voters; re-register inactive voters before the October deadline
Sign up for lawn signs and visibility
Host a Meet the candidate house party with your state representative
Volunteer for E-Day
Come out and support Row B — Malloy/Wyman, Merrill, Nappier, Jepsen, Lembo, Congresswoman Esty, State Senator Gerratana (6), Rep. Boukus (22), Rep. Lopes (24), Rep. Sanchez 25) and Rep. Tercyak (26).
The differences between Malloy and Foley and Democrats and Republicans are stark and revealing on fair and minimum wages, property tax relief, public safety, transportation and local school and municipal aid. For more information contact NB Headquarters by calling 860-505-8901 or by email: newbritaindemocrat@gmail.com. Democratic headquarters is located at 19 Bassett Street.
Reply To New Britain Democrat to ask a question or join the DTC contact list
League of Women Voters Legislative Candidate Forum Tuesday, October 7th
The New Britain Area League of Women Voters (LWV) will host a forum for state legislative candidates representing New Britain and Plainville on Tuesday, October 7th, at the New Britain Police Department's Community Room at the corner of Chestnut and Main streets. The public is invited.
From The Chair
Questions Linger On Money That Fueled 2013 Campaign Against Democrats
The Waterbury-based Connecticut Property Owners Alliance, which  last year hosted campaign meetings prominently featuring former Farmington Hills Apartment Complex Owner Sam Zherka, announced the formation of a political action committee (PAC) in the final two months of the  2013 municipal campaign. "The CT Property Owners Alliance is pleased to announce the formation of its Political Action Committee and will host an event on Wednesday September 18th, 7:00 pm at the Whinstone Restaurant in New Britain to celebrate. It's only fitting the event be held in New Britain with all the controversy created by its current Mayor Tim O'Brien and his housing policies. Michael Telesca, a longtime landlord and chairmen of the State Independent Party is heading up the committee" stated the CTPOA in a press release posted to its website.
The CTPOA, representing absentee landlord interests in New Britain and other communities, was acting appropriately by forming a political action committee to oppose policies they were against and to support candidates pledging to change those policies.    The CTPOA PAC, however,  gave  no money to any candidates in the legal, legitimate way it was set up to do. It raised $150 and spent $150 — the only reported expenditure was a $150 cash payment for bookkeeping expenses to the PAC's treasurer, according to the committee's termination report earlier this year.
You didn't have to be a political junkie to know that by the time the landlord group's PAC formed there were already tens of thousands of unreported and unaccounted for dollars in circulation on behalf of the Mayoral campaign of Erin Stewart.  Individual absentee landlords were taking out full-page ads in the New Britain City Journal.  The shadowy and now defunct website,  www.savenewbritain.com,  was promoting candidates and smearing Mayor O'Brien and City Council Democrats — its web domain registered to the CTPOA's Bob DeCosmo.  Stewart and her slate became the darlings of the CTPOA for a promise to repeal a fee on absentee landlords used to pay for housing code enforcement — a common practice in cities across the United States that reduces burdens on the property tax.
The CTPOA political committee also escaped a complaint filed by the New Britain Democratic Chair at the height of the campaign for disseminating an email from "Allen Court Apartments" that "invites you to meet Erin Stewart….there are only 13 days left till the election. New Britain needs Erin Stewart to win this election to fix  the mess the current Mayor has created."  The complaint was part of a tit-for-tat when the Republican Party Chair filed a frivolous complaint against a member of the Democratic slate.  Subsequently, a November 1 2013 full-page political ad supporting Stewart for Mayor  was published with a "paid for by CTPOA PAC" but no expenses were ever reported as required by the State Elections Enforcement Commission (SEEC).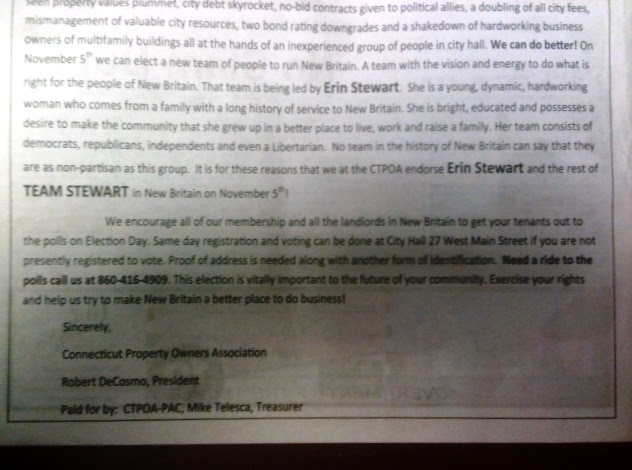 This excerpt from a full-page ad in the 11/1/13 New Britain City Journal on behalf of the Stewart Mayoral campaign says "paid for" by the CTPOA-PAC but no expenses were reported for the ad. 
At issue in the "Allen Court Apartments" e-mail  is a prohibition in state statute that bans an independent expenditure for communication, including web-based communication, that promotes the success or defeat of any candidate  "unless such communication bears upon its face the words "paid for by."  The State Elections Enforcement Commission (SEEC) concluded that the CT POA PAC was just forwarding a communication from someone else and not required to do a disclaimer.  The SEEC, under-staffed and increasingly  limited in its ability to do full-scale investigations at the municipal level,  "declined to investigate the matter further." And who can blame them? It's hard to find anything wrong about a committee that is neither raising money nor doling out contributions nor incurring any expenses.
No one, Democrats included, during 2013 or since has really "followed the money" behind a campaign of yellow journalism, personal attacks and off the books political organizing.
Back in the fall of 2012, at the same Whinstone Tavern where CTPOA celebrated its short-lived "PAC",  Sam Zherka,  charged last month with witness tampering and multiple fraud charges amounting to more than $150 million, told his CTPOA audience that a group of  "seven landlords"  had already raised $100,000 to "wipe out" Mayor Tim O'Brien and Common Council Democrats in the next election. Former Mayor Tim Stewart warmly introduced Zherka at that meeting,  saying  Zherka "is the driving force behind the steering committee to fight this issue" after which Zherka announced a $100,000 fund against Democratic elected officials.
All of which brings us back to the question: what did the CTPOA PAC do and when did it do it? Aside from a pre-election, full-page ad in the New Britain City Journal for which no expenses were reported,  the CTPOA PAC, according to SEEC reports, opened and shut without doing much of anything.
Instead, the out-of-town landlord group and the Stewart campaign, both with "plausible deniability", hitched their wagons to Sam Zherka, the New Britain City Journal and a model of political mayhem imported from Zherka's Westchester Guardian newspaper in New York to reach their goals and attain public office.
Questions will continue to linger on the assault on civility and democracy in New Britain last year.
Connect with New Britain Democrats on social media
Twitter: www.twitter.com/nbdemocrat
Facebook:  www.facebook.com/newbritaindemocrat
NOTICE – If you do not wish to receive updates from New Britain Democrats write "cancel" in the subject box and reply to newbritaindemocrat@gmail.com.
THANK YOU
Labor donated. Any costs associated with this message paid for by New Britain Democratic Town Committee, Post Office Box 2112, New Britain CT 06050   John Valengavich, Treasurer. Approved by John McNamara